THE AGOUTI BOOKLET AND PRODUCERS' MANUAL
This booklet has been produced with the following intentions:
1] to outline the reasons why we think that the Agouti in Trinidad and Tobago is being threatened,
2] to be able to quickly answer some of the simple questions on the Agouti, this we call "Aryann's Questions" which were the questions that an eight year old girl [Aryann Garcia] asked about the animal,
3] to provide the justification for the captive rearing of the Agouti in Trinidad and Tobago, and the Neo-Tropics at large,
4] to be able to provide the scientific information on the animal to existing Agouti lovers, hunters and farmers and
5] to be able to provide a framework and production plans for an intensive production model for this animal either for hobby or commercial production.

To download the Agouti Booklet please click the thumbnail below: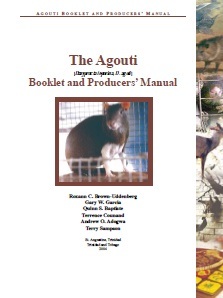 INTRODUCTION AND HOW TO USE THIS BOOKLET:
The booklet is organized in a manner that we hope you would enjoy. How could you use this booklet?
This booklet is made up of four (4) parts as follows:
1. Description of threats to wildlife and wildlife farming in Trinidad and Tobago,
2. Aryann's Questions on the Agouti,
3. A Scientific Literature Review on the Agouti and the genus Dasyprocta and
4. A Practical Guide for Agouti Production.
Aryann's Questions could be used by Primary and Secondary school teachers to answer the basic questions on the Agouti. This could be copied for circulation to students. The third part contains all the scientific information on the Agouti and can be used as a reference on the Agouti. The fourth part contains the information on how you could go about setting up an intensive Agouti production unit and is designed to be a practical production guide aimed at informing farmers, hunters and the general public.